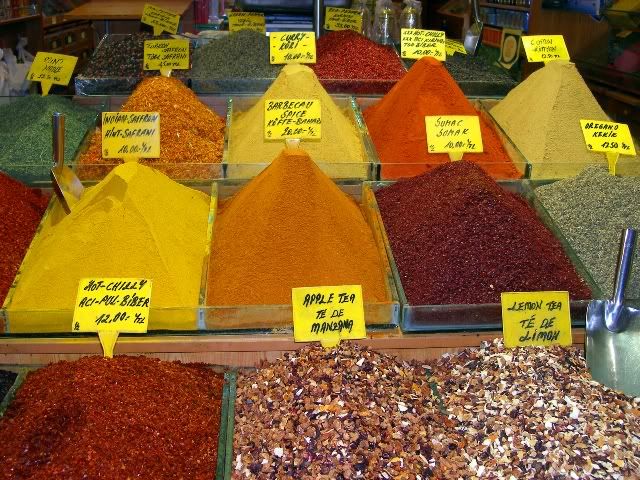 Adding exotic and ethnic seasonings and ingredients to your cooking can turn even the most 'blah blah' meal into something to talk about. Adding bold flavors to food is also a way to bring interest and greater enjoyment to meal time. Today there are greater and greater diverse food choices in general to be found on supermarket shelves, and 'exotic' has become more and more accessible. So it's likely that you may have already heard, used or have been thinking of using some of the items from the following list. As Thanksgiving and the Christmas season approaches, it would be great to incorporate some of these ingredients and seasonings into the traditional meal to spice things up a bit.

1. Coriander

2. Whole cloves

3. Whole or ground allspice

4. Curry powder

5. Freshly grated nutmeg

6. Grated coconut and coconut milk

7. Trader Joe's masala simmer sauce (I know, it's a brand, but I just had to put it on the list, its just that good and versatile.) :)

8. Thai red curry sauce and red curry powder

9. Fruit especially pineapple and anything 'citrusy'-canned, pre-cut, and dried fruit works well

10. Jerk seasoning

11. Yogurt for wonderful ethnic sauces and marinades with an added flare

12. Honey

13. Soy sauce

14. Fish sauce

15. Ginger

16. Couscous

17. Hummus

18. Cumin

19. Chipotle peppers

20. Turmeric

When introducing a new ingredient to your cooking or putting a different spin to a more familiar one, slow and steady is the rule. Take a meal you usually prepare and make a subtle change. For example, in the case of beef stew, a simple upgrade could be adding a piece of ginger in the pot. And why not try lamb the next time?

Finding the exotic in a dish is as simple as going to your pantry, that is if it is stocked up with the right ingredients.